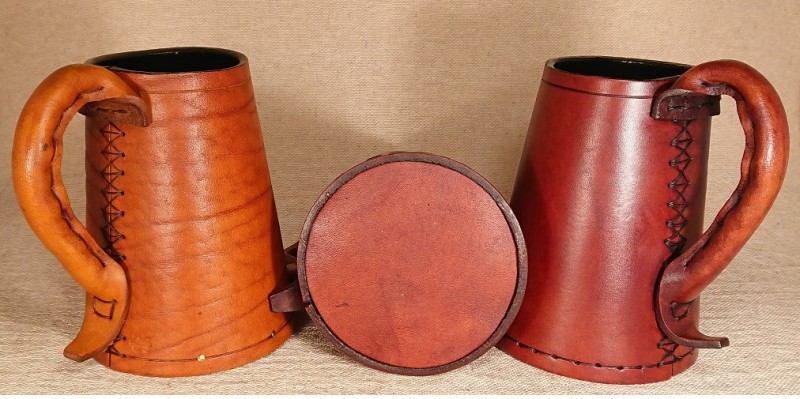 This Father's Day, Gift Your Father a Hidebound Tankard
Father's Day is fast approaching, and you may be wondering what to get your father this year. Many people choose to purchase gifts that are related to their fathers' hobbies such as golf or darts.
Others prefer to buy them gifts that they can use in their day to day lives, such as a barbecue or a power drill set.
If you're looking for an interesting looking gift that your father can enjoy using in their day to day life, you should consider gifting them a leather tankard from Hidebound. These leather drinking vessels look incredibly authentic and are modeled after tankards, jacks, and goblets used during the medieval and Tudor period.
Made by hand

These drinking vessels are made from real full grain leather that was molded into shape whilst it wet and is hardened through temperature-controlled air drying. They are also lined with a resin to make them waterproof and are certified for use with alcohol.
They're ideal for serving cold beverages in. In fact, jacks and tankards were often used to serve beer and ales. If your father enjoys partaking in his favourite tipple at home, he may fall head over heels for one of Hidebound's leather tankards.
Great for parties

If your father enjoys hosting social events, he may like serving his guests drinks from one of Hidebound's leather bombards. They're similar to pitchers or jugs made from leather and can hold up to four pints.
Even better, you could get your father a set of leather tankards so that he can show them off to his friends during their next poker night.
Some of the tankards and jacks offered by Hidebound feature a variety of decorative emblems that look interesting. Each design has a unique history behind it, so your father may want to collect several of them so he can teach his friends about each emblem's origins.
Comfortable to hold

Hidebound's drinking vessels are made from high quality vegetable tanned leather. This makes each tankard, jack, and goblet comfortable to pick up or hold.
The handle attached to each tankard and jack is also made of leather and is sturdy enough to ensure that your drink is held safely and with ease.
These drinking vessels are also more durable than glass and aren't likely to break if they're dropped. The internal lining can also be repaired if it becomes cracked.
The perfect gift

The drinking vessels offered by Hidebound are durable, and can look great for years with the right maintenance.
Taking care of a leather tankard or jack is as easy as rinsing it out with cold water, and wiping down the outside with a damp cloth. Applying leather balm occasionally can keep the leather looking fresh and shiny.
So make the right choice this Father's Day, and gift your father a leather tankard or jack from Hidebound. It's a gift he can enjoy using and showing off for years to come.