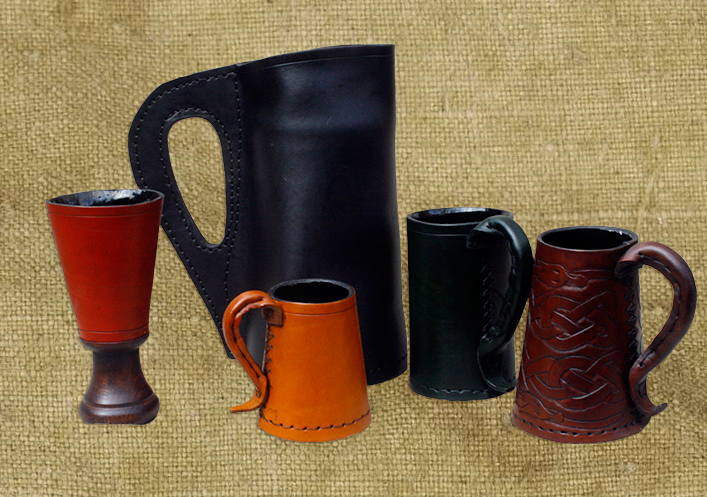 The long history of leather drinking vessels stretches from ancient times to the Crimean War. Moulded leather vessels dating back to ancient Egyptian times have been found and a relief carving on Rekmire Tomb clearly resembles a leather bottle complete with stitching. An early Nubian predynastic grave has revealed a leather vessel at the head of the occupant where a pottery one would normally be found.
Moving to western Europe, in 1848 a silver lipped leather cup was found near Buxton.
More recently, a leather Neolithic beaker and small leather bowl have been found in Switzerland and a Neolithic leather beaker was found in West Smithfield, London during the recent excavation for the tube system.
As well as actual finds, there is written evidence of leather vessels having been used throughout history. In a manuscript entitled "Colloquy of Archbishop Alfric", a 10th century Archbishop of Canterbury, are comments about a shoe wright who also made ankle leathers, hardened leather "bottels", flasks and bougets or jugs.
Britain has been the home of leather vessels for longer, and in higher numbers, than anywhere else in history and their existence has become quintessentially British. Reference to leather pots is correct in that the word pot is not derived from pottery but from the potable water which leather vessels held.
The manufacture of leather drinking vessels and similar products has always been protected as shown by the establishment of artisan guilds. In the 13th Century, the Guild of Cordwainers was established protecting not only shoemakers but also covering glove, hat and other leather clothing, as well as drinking vessels and bottle makers.
In 1215 the Company of Cordwainers was renamed the Leather Sellers Guild which still exists today in its St Helens Place, London headquarters and with which Hidebound has enjoyed a fruitful connection in recent years. On the renaming of the Guild, the Company of Botelliers was formed to separately protect the trade of bottle and tankard/jack making which was not considered as high a professional calling than other leather working producing gloves, shoes and hats.
The whole process even resulted in a new definition of leather. Only deer skin, goat, badger and even snakeskin was officially termed leather. Cow skin was considered lowlier, as used by "bottelliers and jack/tankard makers" and became officially termed Hide. This is derived from "hide" being the term describing an area of land sufficient for five cattle.
Hidebound's Tudor style tankard is modelled on the shape of those recovered from Henry VIII`s flagship the Mary Rose. It is broad based for shipboard stability and has become the traditional tankard shape.
Our traditional Jack of the medieval tavern obtained its name from the material used in its manufacture being Jack leather which is still created by soaking in very hot water. When dry the leather is very hard and stays in shape.
Bombards, or leather jugs, modelled on those used in Ale Houses and country houses with their own brewing facility where ale would be brought to the table from the cellar.
Our unique range of leather drinking vessels are all made to historical design and adapted for contemporary use.