Product Description
Small Tankard £34
The Tudor Style beer tankard is broad based for shipboard stability and has become the traditional tankard shape.
Modelled on the shape of those recovered from Henry VIII`s flagship the Mary Rose.
Small Tankard height - Approximately 11cms with capacity approximately half a pint. Also available in Large here.
If you would prefer a personalised tankard, please do use the "Add Personalisation" option above. These could be either an engraved tankard or a carved tankard. More information regarding personalisation can be found here.
Historically, leather tankards were lined with either boiled Resin of the birch tree, Brewer's Pitch, or Beeswax. Our full grain leather drinking vessels are lined with an epoxy resin to echo the historic use of resin whilst having the visual appearance of Brewer's pitch. The resin we use is fully certified for use in both the food and alcohol industries.
All our beer tankards are handmade from natural materials which can never be consistent in colour. Whilst every endeavour is made to control colour consistency, each item is offered as an individual piece. However, it will always be the actual colour ordered.
Click here for more information within the Internal Lining section of our Facts page.
Click here for Large Tudor Tankard - Approximately 15cms with capacity approximately one pint.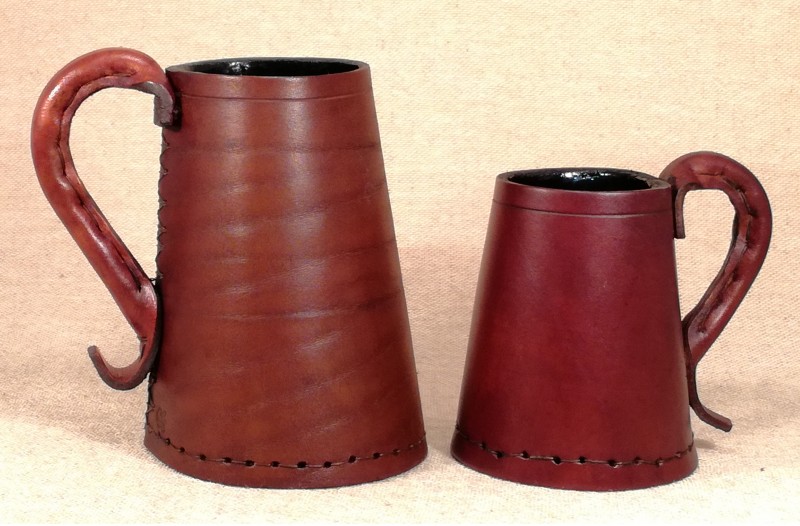 As seen in the Pirates of the Caribbean films, Game of Thrones and Netflix Original, Cursed. Keep an eye on the pub, tavern and bar scenes.

Delivery
Our handmade plain items are dispatched within 1-3 working days of receiving an order, depending on demand at the time.
Personalised items are dispatched within 2-4 working days of receiving an order, depending on demand at the time.
We may be contacted on 01833908088 or you may contact us here.
-----------------------
We have discontinued our tankards with the pinned detail around the base. However, if you would like a pinned base tankard, we can make one especially for you at no extra cost. This could take two weeks to complete, depending upon demand at the time.
Please do phone us on 01833908088 or contact us here regarding this.
EU Delivery
Due to Brexit restrictions, we unfortunately have had to suspend delivery to countries within the EU.
Facts about our Leather Drinking Vessels
Hidebound leather drinking vessels are water, or beer, proofed and intended for use with cold liquids only.
All materials UK sourced.
Hand crafted and stitched.
Handmade in England
Product Personalisation
If you would like your drinking vessel personalised, we can either Carve or Engrave it for you.