Personalisation

Engraving
If you would prefer a personalised tankard then text or simple line drawings may be engraved by hand onto our completed drinking vessels. These engraved tankards involve carefully removing the top layer of leather with an engraving tool and then colouring the impression. We prefer hand engraving rather than machine engraving as we feel it better compliments our hand-made products. Two popular fonts are shown above, Monotype Corsiva and Lucida Handwriting. Or let us know if you have a preferred font. We charge £1 per letter.
Alternatively email us at enquiries@hidebound.co.uk with your picture design so that we may give you a quote for your personalised tankard.
Carving
This is a much more intensive process.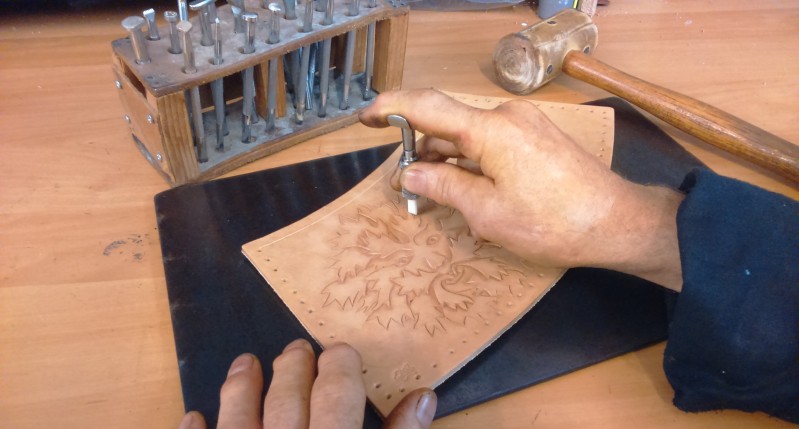 The traditional name of carving is a misnomer as it isn't actually carved in the traditional sense.
First we cut the main outline of your design into the leather and then tool along the cuts to, eventually, produce a three dimensional design. This all has to be completed whilst the leather is still flat. For this reason, we will make your drinking vessel from scratch, so the process will take longer. Usually approximately two weeks.
After the vessel is fully fabricated, your design may be finished by hand painting using acrylic paints or leather stain. The choice is yours.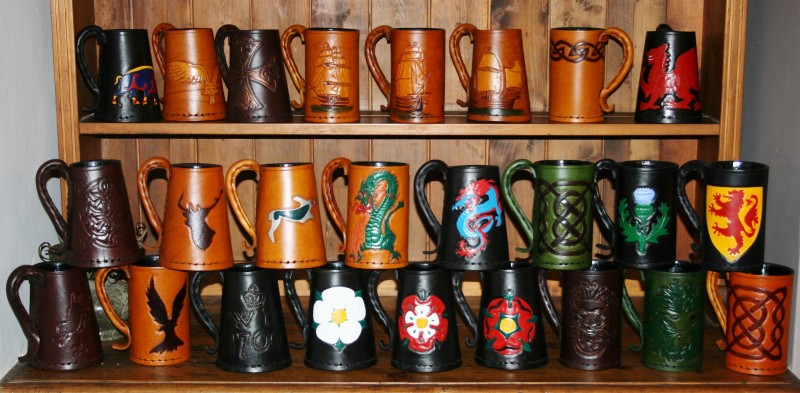 Please email us at enquiries@hidebound.co.uk to contact us with your design for us to carve on to a drinking vessel, so that we may give you a quotation. Please attach any photos to your email when sending it to us.