Product Description
Due to our recent change of lining, this product is currently unavailable. It will be reinstated as soon as possible.
Our drinking vessels are lined with either an epoxy resin or alternatively brewers pitch. Click here for more information within the Internal Lining section of our Facts page.
This drinking vessel is hand made from one piece of leather for both the handle and the body and is acceptable as an authentic design for many historical periods.
Of particular interest to re-enactors, the multi period jack can be used to depict any period from early medieval to The Crimean War times.
Alternatively, it is a pleasant drinking vessel from which to simply enjoy a drink, whether or not you are historically minded.
Capacity of Multi Period Jack - One pint - Approximately
Height: 19cm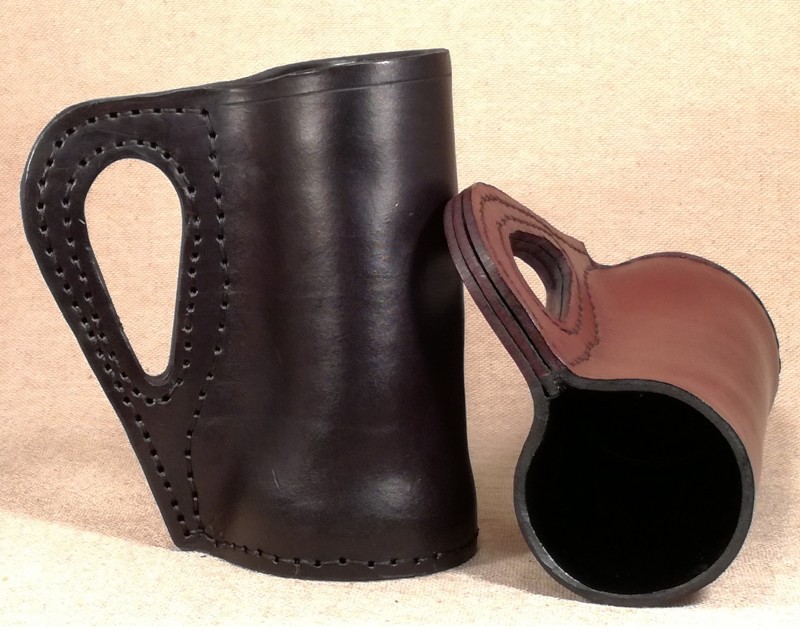 Delivery
We always work to ensure we have all items in stock. However, our hand carved and painted drinking vessels can take up to two weeks to create. Please do use our Contact Us page if you are in a hurry and would like to check our stock levels before ordering.
Facts about our Leather Drinking Vessels
Hidebound leather drinking vessels are water, or beer, proofed and intended for use with cold liquids only.
All UK sourced.
Hand crafted and stitched.
Handmade in England
Product Personalisation
If you would like your drinking vessel personalised, we can either Carve or Engrave it for you.